RACEWARE™ Head Stud Kits Protect Your Engine from Expensive Damage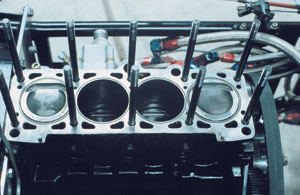 Note:  RACEWARE™ cylinder head stud kits are able to prevent head gasket leaks that other highly marketed brands of engine fasteners cannot. This has been proven over and over by engine builders and auto enthusiasts who purchased other brands of head stud kits only to experience chronic head gasket leaks. They ended up replacing those highly advertised aftermarket head stud kits with a genuine RACEWARE™ head stud kit to permanently eliminate head gasket leaks in their engines. The other fastener brands may look similar to RACEWARE™ but history and independent lab testing has shown that that the other brands don't perform the same as RACEWARE™ Aerospace Quality engine fasteners because they lack the superior engineering designed into every RACEWARE™ fastener. Results are what counts, not advertising claims and RACEWARE™ 205,000 PSI tensile strength Aerospace Quality engine fasteners have proven to be the best fasteners for the German engines, bar none, and our customers have proven this countless times!
This has been proved over and over again by motor builders and car enthusiasts, buy cheap geeric viagra. These drugs proved effective in combating male impotence.
Designing and manufacturing the best Aerospace Quality engine fasteners for the German engines takes expertise that other companies lack. It's far more involved than just using a quality alloy steel and rolled threads. Having designed new engines for the car makers for many years, RACEWARE™ has the technical expertise to properly engineer a superior fastener solution for a specific automotive application. RACEWARE™'s 40 years of engine design and racing success allows us to understand the engine operating environment and the extreme changes that occur when an engine is started at -30° F and progresses to 300°+ F temperatures. Without this knowledge it's impossible to design the best fastener system for an engine, as demonstrated by the many failed fasteners people send us that were produced by other companies that simply lacked the engine expertise required.

Have you ever wondered about the performance claims that some companies make for their fasteners? You should. Independent testing by government accredited A2LA material testing labs that specialize in threaded fastener testing has shown that these claims are often meritless. RACEWARE™ is the only company that has a stated Guaranteed Minimum Tensile Strength for our fasteners that is independently verified. RACEWARE™ is the only German engine fastener supplier to certify the performance of our fasteners to superior Aerospace Quality specifications. Once you experience the quality and performance advantage of RACEWARE™  Aerospace Quality engine fasteners, you will see why we are the gold standard in engine fasteners for the German engines. RACEWARE™ Aerospace Quality engine fasteners are the performance advantage that professional racers depend on and you can too.
Anatomy of a RACEWARE™ Fastener System
Porsche 911/930/964/993 Head Studs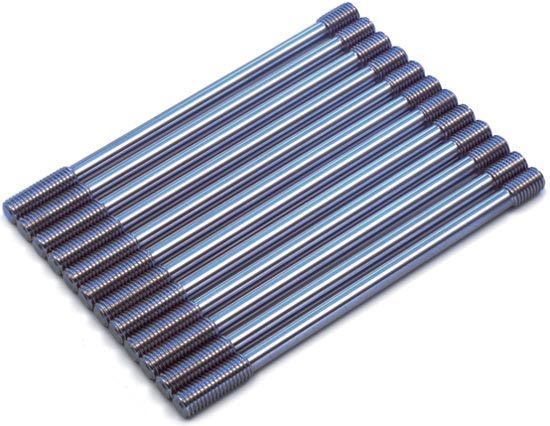 Tuners going for high power with the 911 based engines have had problems with the Dilivar head studs stretching and breaking… A good solution is the new head studs offered by RACEWARE™ Engineering. They are 24% stronger than the Dilivar and have been designed to handle the thermal expansion… These are much stronger head studs, without the brittleness (of Dilivar). Their anti-corrosion coating is not a baked-on coating or epoxy, but a special metallurgical process used in jet aircraft engines."
-  Mr. Bruce Anderson, National Technical Director
Porsche Club of America, Journalists for Excellence Magazine
Porsche 996/997 Twin Turbo 1000 HP Head Studs!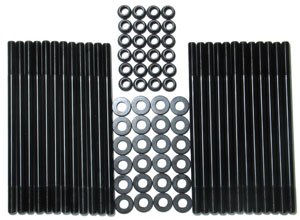 It's no surprise that when Porsche performance engine builders started pushing the power envelope on the Porsche 996/997 factory Twin-Turbo engines they experienced head gasket leaks and damaged engines with other brands of head studs. Just how superior RACEWARE™ Aerospace Quality Head Stud Kits really are became obvious when they replaced the other brands of head studs with genuine RACEWARE™. The head gasket leaks were gone and power levels could now reliably exceed 1000 dyno HP and 30 PSI boost.
Seeing is believing and these engine builders learned the hard and expensive way that using inferior Head Stud Kits not only resulted in engine leaks and damage, it was a costly financial mistake as it cost them over $10,000 in labor to rebuild these engines to fix the leaks. Don't make the same mistake. Use a genuine RACEWARE™ 205,000 PSI tensile strength certified Aerospace Quality cylinder head stud kit to get maximum performance from your Porsche 996/997 Twin Turbo. Nothing else comes close to RACEWARE™ performance.
Don't be fooled by advertising hype, unsubstantiated claims and foolishness for other brands of Porsche 996/997 head studs. You bought a Porsche because you wanted the best. RACEWARE™ fasteners will allow you to take your Porsche to unreal power levels with reliability. Protect your engine with genuine RACEWARE™ Aerospace Quality engine fasteners. Your engine will reward you with superior performance and reliability.
 Porsche 944/944 Turbo Head Stud Kit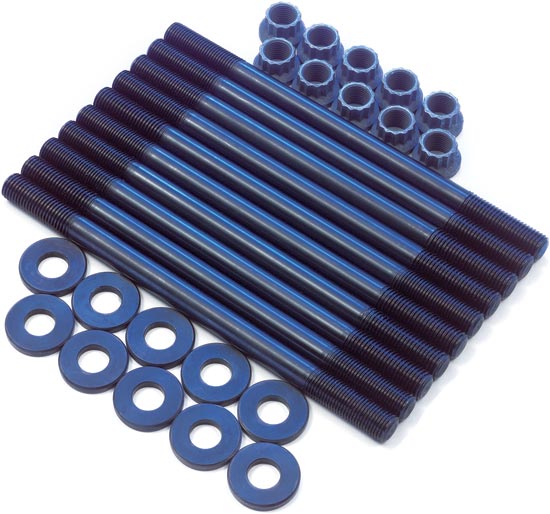 RACEWARE™ is often imitated but never duplicated!
Pro Stock and Turbo VW Engine Owners Win with RACEWARE™
For years the best Pro Stock cars, Professional VW Engine Builders and Turbo/Nitrous VW engines have used RACEWARE™ Aerospace Quality Head Stud Kits (HSK) to keep the cylinder heads sealed. You can't make winning power with cylinder heads that leak. In addition with a Turbo or nitrous, any cylinder head leak can instantly melt and destroy an expensive piston, cylinder and cylinder head.  Attempting to save a few dollars by using an inferior Head Stud Kit can cost you dearly.
Over the years some companies have tried to copy the legendary RACEWARE™ Aerospace Quality engine head stud kits. Unfortunately there is a lot more to proper head stud design than just using a high-strength alloy steel. RACEWARE™'s 40+ years of engine design, national and world-record setting racing success in VW powered cars goes into every fastener we sell. History has shown that a cheap, inferior copy of a RACEWARE™ head stud kit simply can't perform like a genuine RACEWARE™ Aerospace Quality Head Stud Kit. After VW enthusiasts buy these inferior head studs that break or result in head leaks, they ultimately end up buying a genuine RACEWARE™ Head Stud Kit to permanently eliminate head leaks in their VW engines. Be smart, use genuine RACEWARE™ Aerospace Quality engine fasteners like the Pro engine builders do and you won't end up paying twice.
Don't pay twice. Buy genuine RACEWARE™ head studs the first time and enjoy your VW!
RACEWARE™ Custom Length VW Type-1-2-3-4 and Porsche 914 Head Stud Kits
VW air-cooled engines can be built in hundreds of different configurations requiring different length cylinder head studs. Now you can buy the ultimate RACEWARE™ Aerospace Quality Head Studs for your VW/Porsche 914 engine as a custom assembled kit in different lengths and stud count to meet the many possibilities.
RACEWARE™ Engineering is proud to announce the availability of custom assembled 10mm thread Head Stud Kits for the VW Type-1-2-3-4 and Porsche 914 engines. RACEWARE™ has increased the head stud lengths available so that we can help those who need special head stud lengths. We now offer head studs lengths from 6.5" to 10.25" to cover all of your engine needs. With RACEWARE™ you can properly build your engine without using an inferior one-size-fits-all style head stud.
These certified Aerospace Quality Head Studs have a 205,000 PSI tensile strength to prevent head gasket leaks common with other head studs. Each RACEWARE™ Head Stud Kit comes complete with CNC machined Billet, Hardened Head Washers, Forged 12-Point Aircraft Nuts and detailed installation instructions. Available for all VW air-cooled applications including Auto Craft 910 style heads. These are the head stud kits professional VW/Porsche engine builders use to protect their engines and reputation.
Note: Type-4 and Porsche 914-4 owners, see our engine Case Thru-Stud Kit in the Main Bearing Stud Kit page, to prevent "shuffling" of your engine case halves that can cause increased bearing wear, reduced power and lower oil pressure.