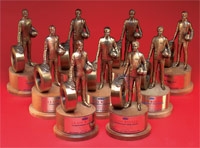 For over 40 years RACEWARE™ engineering has been leading the way in German car performance and engine design. RACEWARE™ was one of the first companies to invent high swirl, compact combustion chamber cylinder heads. RACEWARE™  also created record setting "modular" cylinder heads and introduced roller camshafts to the VW air-cooled engines. RACEWARE™'s unique rocker arm assembly design allowed stable race engine operation at engine speeds in excess of 10,000 in pushrod engines. RACEWARE™ engineering has produced advanced engine designs for major car makers and developed the most airflow efficient intake port design ever measured by one of the largest car makers in the world.
RACEWARE™ Engineering has won nine NHRA National Event Class Titles, set NHRA national speed and ET records, and designed and developed the record-setting VW GTI 16V engine used in the Thumper Racing dragster that set four world records. This tiny 1800cc engine employed custom machined billet aluminum mechanical fuel injection that produced over 600 SAE dyno HP. RACEWARE™'s ability to make reliable, insane power for auto racing has led to the development of the RACEWARE™ Aerospace Quality engine fasteners that you get to enjoy today.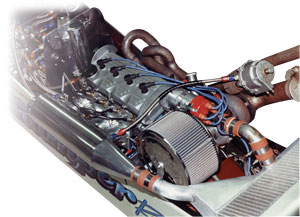 Decades of engineering excellence are incorporated into the RACEWARE™ Aerospace Quality engine fasteners that you can buy for your German car. While you can find cheaper fasteners for your car, you won't find a better performing threaded fastener solution than RACEWARE™ because each kit is designed for your specific engine and has passed the test of time. At RACEWARE™ we are not "Marketeers"… we are experienced engine designers and engineers who devote all of our energy and resources exclusively to producing the maximum performance and reliability possible from the German engines. We don't use phony names for the alloy steels that we use to produce RACEWARE™ fasteners, nor do we make unsubstantiated performance claims for our fasteners as some companies do. We simply deliver the best engine fasteners available for the German engines. This has been proven in actual street and track use and in independent lab testing. We are the no B.S. source of the best engine fasteners available for your German engine.
RACEWARE™ for those who know real performance!